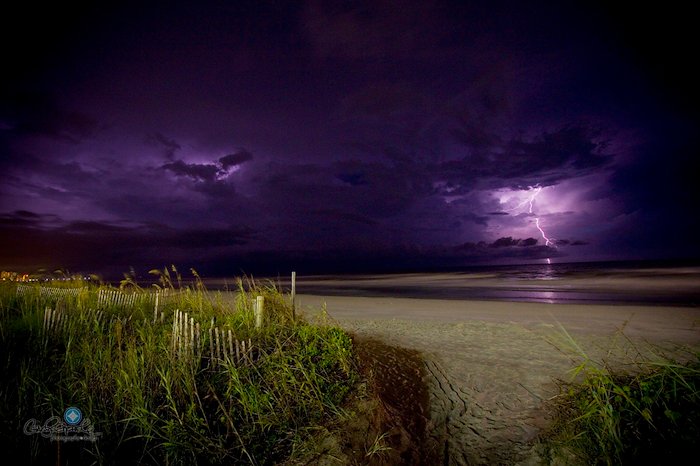 As a springboard from my first post, this seascape was an example of a learning moment. Family vacay at the coast and I had been taking sunrise pics most of the week. My nephew has a desire to learn more about photography, so we head down to the Cherry Grove Pier to snap some there, timed night images, blurred water, the whole nine…
What I didn't check, however, was the weather. After 30 minutes of "calm," we had lightning out front over the ocean. Sweet! Along with the night fishermen and their boats trolling along the horizon, the lightning was moving with them, slowly from right to left. Already equipped for night shots, we moved the tripod away from the pier and planted ourselves between dunes and played off the nearby hotel lighting to illuminate the backside of the dunes. We were set for 30-second exposures and dialed in the aperture as the lightning became more frequent and prolonged. I shot several dozen images, teaching as I went, which was a lot of fun. Jokes in between, photographic factoids afterwards. I kept thinking, "don't give too much info too quick, Uncle – keep it fun and interesting." Then, we nailed this shot down and the next hour felt like 10 minutes.
This image seemed to be the best looking in terms of lightning streaks and the overall lighting it produced. Reflecting on the ocean, sand and throughout the clouds, this was my winner. I've since printed it to a metallic print (pearlescent paper) and am happy with it.
The following day's sunrise would prove to be fun, too. Who says learning (and teaching) isn't fun…